iPhone on the Streets.
Street photography fascinates me. Done well, it can capture an era. Most articles on the topic discuss techniques for being inconspicuous, since it's required for the photographs to feel natural. Personally, I've never had the nerve to do it.
Shooting from the hip—the combination of zone focusing and large apertures—is the pervasive method to capture candid moments. Effectively, it's a way to take photographs without other people noticing. Since the camera stays off your face, it looks like you're fiddling with your camera, instead of taking pictures.
The need for stealth is so crucial to street photography, I wondered how the iPhone would fare. After all, everyone is on their phone in public.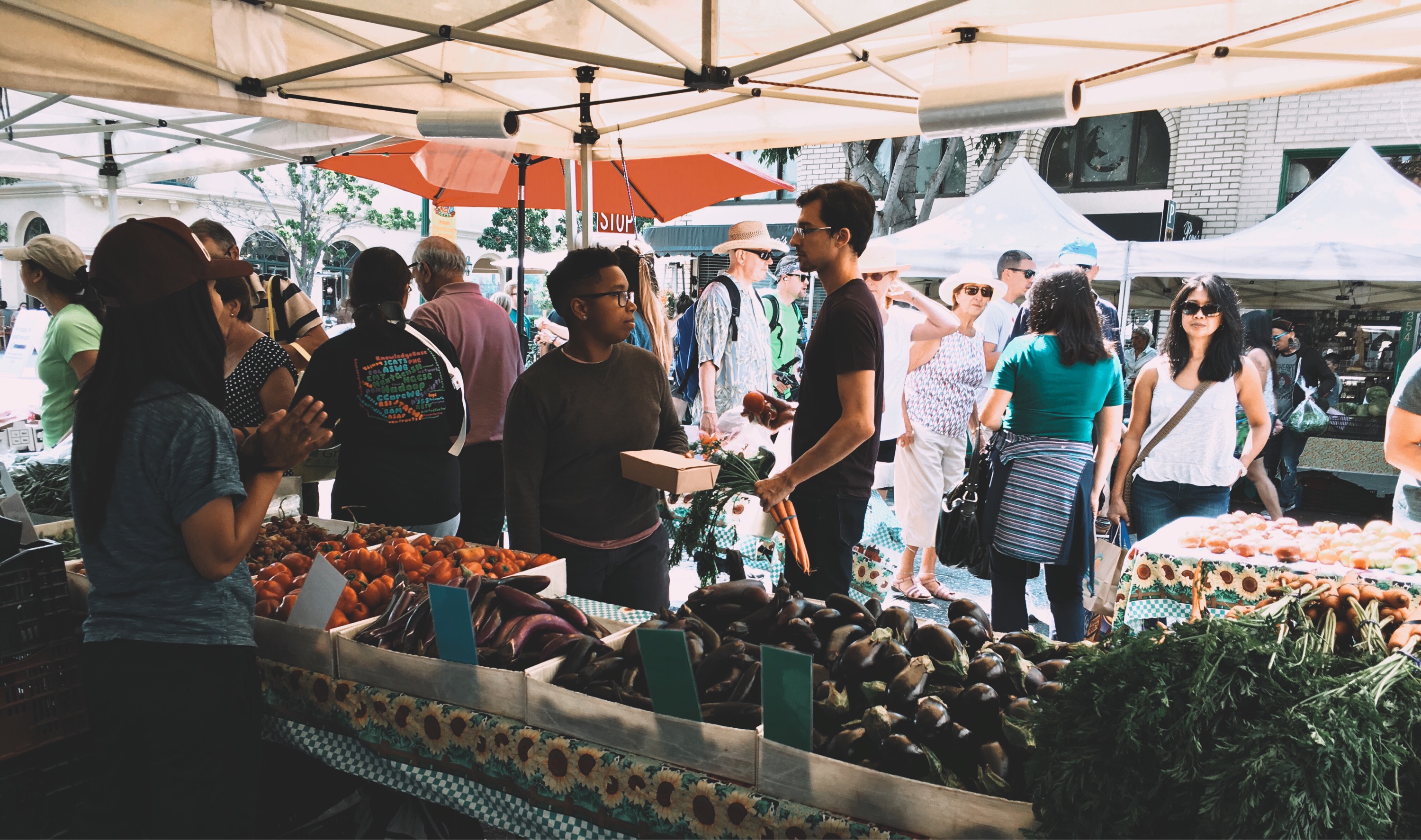 I decided to give it a try two weeks ago, while walking back from the local farmer's market. Each stand backs up to the sidewalk, which gave a clear line of sight into the market through the tents.
Technique.
Not sure what I could capture, I held my phone in landscape around my hip—casually—while still walking. Instead of looking down at my phone, I focused on each stand. When I found an interesting group of colors, or I was close enough to capture someone paying for food, I took a picture.
I never bothered to set focus, letting the iPhone handle it. As the light and distance to subjects changed, I hesitated for a few moments, waiting for the iPhone to catch up and re-focus.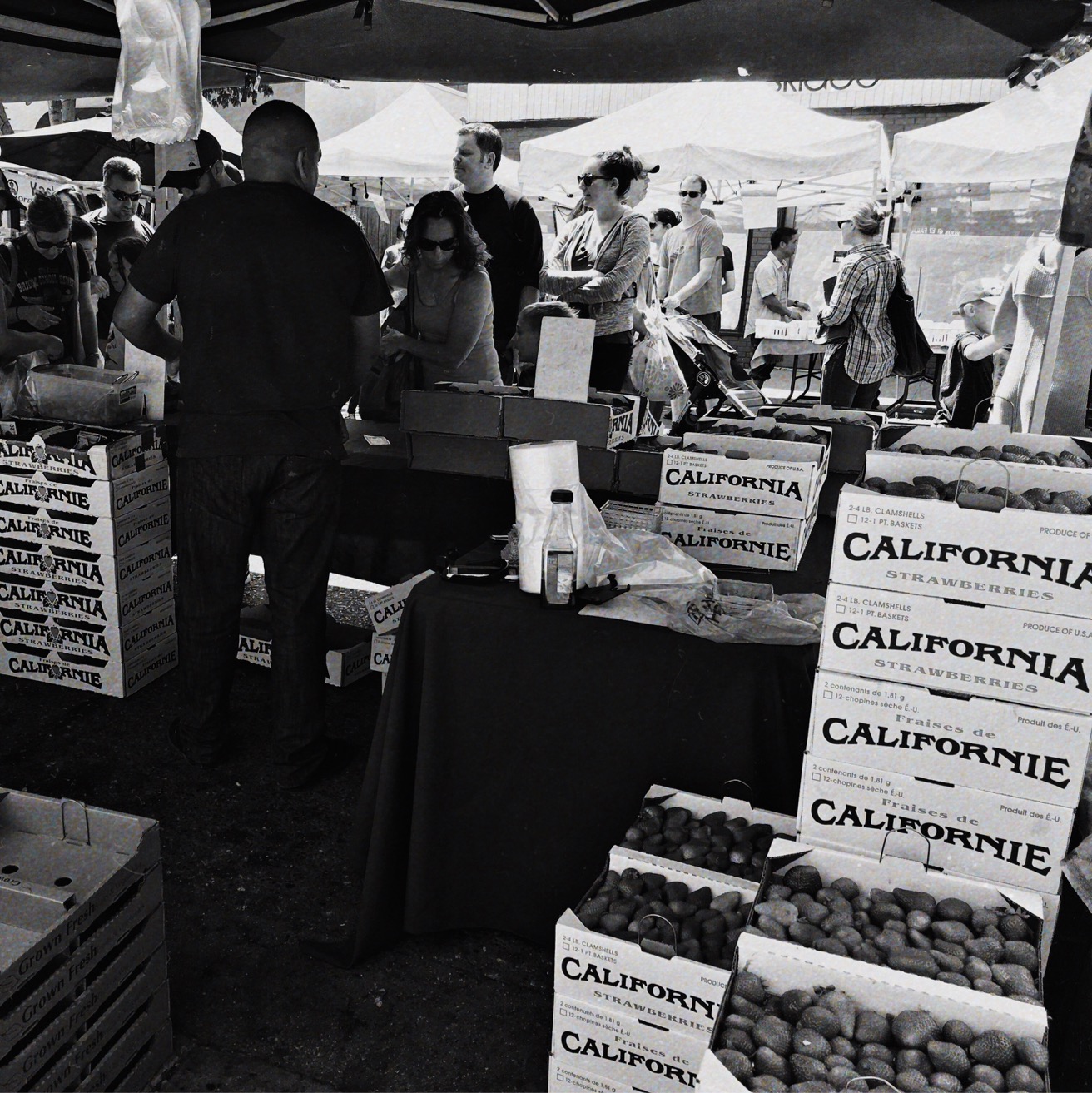 The selected photos each had a different quality which caught my eye. Scenes backlit by the 10am sun, and the curious halos it created around subjects. Facial expressions, and color groupings from different produce. The graphic boxes with California printed across them.
The iPhone proved the ideal invisible shooter. Not even my family noticed I was shooting photos.
Processing.
Back at the house, I was pleasantly surprised by the images. Empty crates, staging tables, and tents provided the perfect frame for an unsuspecting sea of humanity. Unlike how I normally shoot, I composed these photos after capture. Each capture was a different surprise. I didn't know what I had until long after I was finished.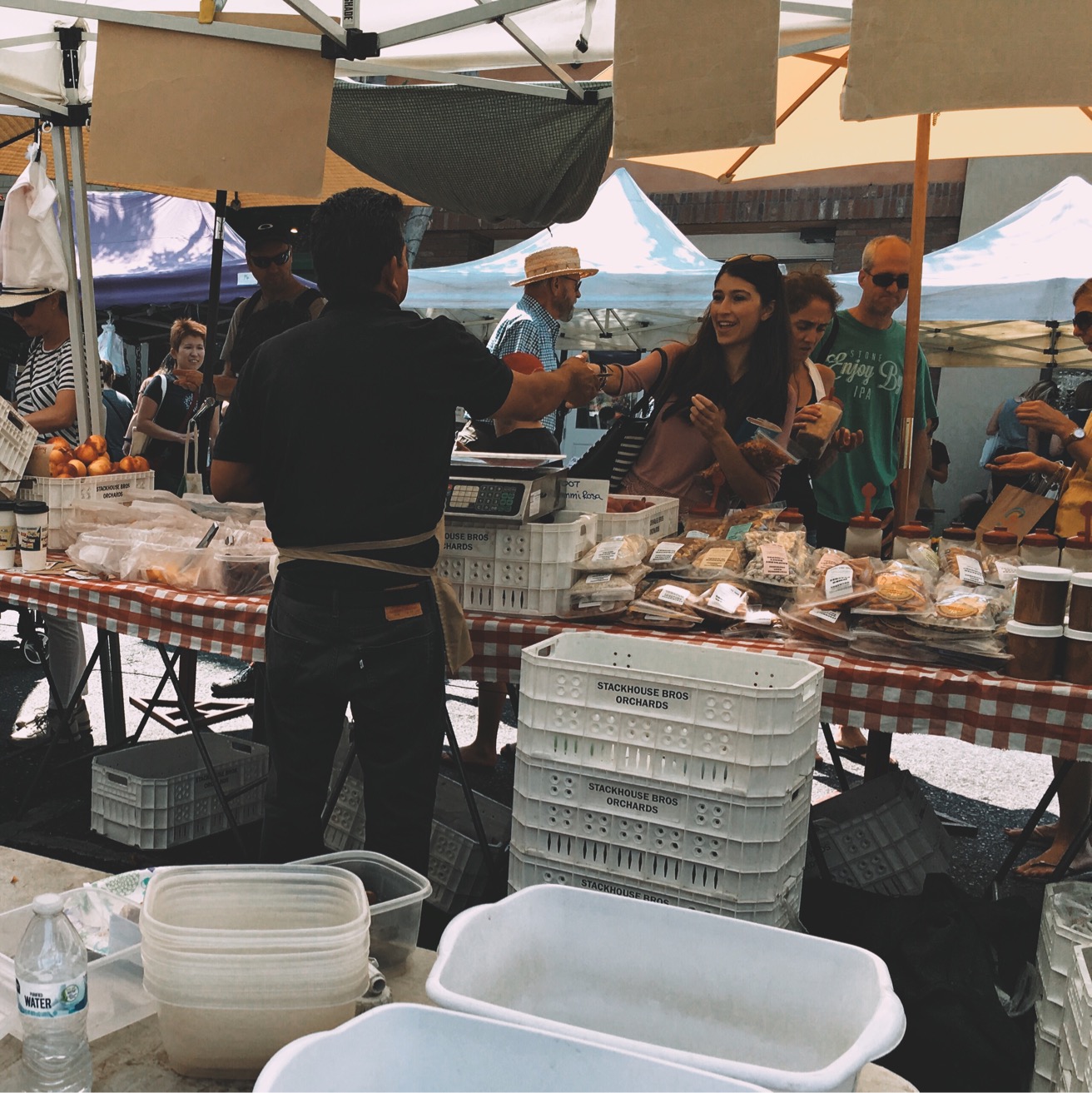 Every photo shown has been cropped—sometimes heavily. Since I didn't carefully frame each shot, it was expected. The iPhone captured enough resolution. I feel comfortable enough to print any of these at poster size.
During selection, I focused on interactions. Two people physically interacting. Or the contrast with how people under the tent interacted with light differently than those outside of them.
Not only did the iPhone capture the photos, it also processed them. I used RNI films' excellent app to apply vintage or monochrome filters to each photo. I originally planned to exclusively use monochrome, but couldn't bring myself to hide the beautiful colors of the market.
The experiment was a success—and I am hooked. Two nights ago, walking to an ice cream shop in downtown I spotted a pair of buskers. Five minutes from capture to Instagram.